Chamber Maps
Business Associations
Tourism Bureaus

We offer to you, custom city and county maps to fit your individualized needs.

Maps offer your organization a unique link between you and your community.

Each project can be customized, based on the needs of your organization. We offer a complete telemarketing facility from our office in Cincinnati, Ohio.

We can handle the entire project from beginning to end, without the need of any outside organizations.

Maps can be used very effectively as a fund raiser, as so many other Chambers are doing. Remember, there is a difference in maps.

We would appreciate the opportunity to serve your needs. For information please contact us.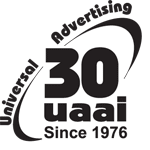 Universal Advertising Associates Inc.
2822 Mack Rd
Fairfield, OH. 45014

Toll Free: 1-800-322-8224
Fax: 513-522-5530